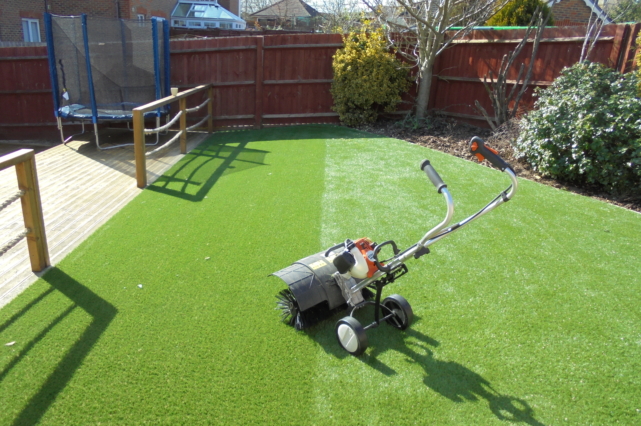 Maintaining The Standard
Although our products require very little maintenance after they have been installed, following these simple steps will ensure that your artificial grass remains in top condition for the years to come.
A stiff brush occasionally against the pile will ensure that your fibres are standing as upright as possible. Artificial lawns inevitably flatten with use so this will ensure your lawn remains standing proud.
Removing debris. Although you installation should have had a geo-textile weed membrane installed, weeds can still germinate on the top surface. To ensure this doesn't happen regularly, we recommend removing any soil and leaves to prevent this possibility.
For lawns with pets, ensure any waste is removed and hosed down. You should have a permeable sub base to the depth of at least 100mm under your new lawn, so hosing down affected areas should drain away freely and quickly. We would recommend that if an animal is urinating on the grass, that the area is hosed down with warm water and some fairy liquid as soon as possible after each occasion. Should any urine smells arise, we can supply you with a pet odour cleaner that may solve this issue.
Should you have any other queries in regards to your artificial grass, please do not hesitate to call us at: 07522 489 311