Artificial Grass for Pets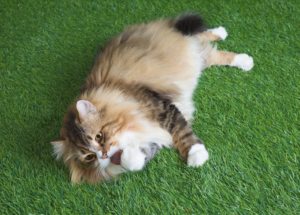 Naturalawns have specific products available that are pet friendly. We appreciate that most of our customers require the perfect all round product – great looks, great for the kids and their play equipment, but also suitable for their four legged friends.
We feel that artificial grass is a great solution for customers with pets, allowing a safe and clean environment for them to enjoy.
A large part of ensuring that the artificial grass works well for pets is the installation process and the aftercare from the customer.
To ensure that your lawn is solid and permeable enough to withstand the demands of the average family pet(s), we would recommend having a professional installation undertook by one of our approved installers.
It's then over to you, the customer, to ensure the upkeep. We can provide you with advice and even safe cleaning products for you to apply to ensure you enjoy your new artificial lawn for many years to come.